I thought I was nervous when one of my tennis tournaments was just around the corner. I would have terrible stomach aches before any match. Now I'm experiencing even worse feelings: my daughters' tournament coming up…
Let me go back 3 years ago when I was invited by one of my relatives to assist at his son's tennis matches. My relative was a pack of nerves. He would comment on his son's decision-making, stand up or sit down every five minutes, and clap… he even got into an argument with the father of his son's opponent.
I thought "Why can't he just relax and watch the match?"
I then committed to the idea that I would never act the way this particular parent did.
But despite that, I almost lost it at my daughters' first tournament…
I felt the need to get up and give them instructions, tell them where to position themselves, and remind them to keep the score (well, they kind of needed that in their first tournament because they were very nervous too). Controlling myself was hard.
Now, after many tournaments that my daughters have played, and with another one just around the corner, I feel the butterflies in my stomach already. I am in a constant state of nerves and can't sleep at night very well… I am stressed.
And I think to myself:
"Why do I have to feel like this? What is all the stress for? What is the worst that can happen: lose a match, not get a trophy? So what???"
I need to constantly remind myself to forget about being too competitive and not expect so much from my daughters.
I need to know that these tennis tournaments are just opportunities for them to meet and play against different players.
During the previous tournament, they had a blast when some of the boys asked them to play doubles with them. It was so much fun! You could see on their faces how much they enjoyed making new friends while playing this beautiful sport…
I also need to stop expecting them to win the tournaments (even though they have been getting very close to doing so quite a few times).
The expectations I put on myself are the ones that prevent me from enjoying watching my kids play and compete.
I am terrible to not realize what a splendid chance they have to play a sport that is so respected, to meet quality people and stay healthy while other kids watch TV or get involved in the many un-productive activities that our young population is now exposed to.
So I say to myself: "Cosmin, be happy and enjoy these moments, these days and years that are unique!"
Winning or losing is relative – the experience and how it makes us feel is what matters.
Have fun playing and competing in tennis! 🙂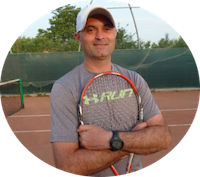 Cosmin Miholca
Certified Tennis Coach
Check out my work at WebTennis24 where I share with you my best video tennis lessons, drills and tips for players, coaches and tennis parents.