Your tennis coach keeps telling you to bend your knees. And you should! But why exactly?
First of all… think about the difference between a race car and an SUV… Assuming that both will drive at the same high speed as they approach a sudden turn, which is going to tip over? That would be the SUV, which is higher off the ground.
So by staying low, you will benefit by having a better balance due to the lower center of gravity.
Secondly… your eyes will be nearer the path of the ball, which will help you make cleaner contact with it.
You will generate more power because the bent knees put the body in a better position to provide hips, trunk, and shoulder rotation. Staying low allows a quicker recovery since you can push off the ground and spring in the direction of the next ball.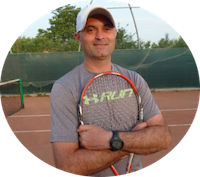 Cosmin Miholca
Certified Tennis Coach
Check out my work at WebTennis24 where I share with you my best video tennis lessons, drills and tips for players, coaches and tennis parents.