As I was working with my students the other day, one of the parents was constantly pointing out to his daughter the mistakes she was making.
Only because the respective parent was a good friend of mine, I did not invite him to leave the court. But I did have a friendly conversation with him and his daughter:
I took them aside and explained that it is okay to make mistakes as long as we learn from them.
It is impossible to play tennis without missing shots once in a while.
But as long as we take a few seconds to evaluate the root of our mistakes, we'll turn the mishit into a lesson.
We should not dwell on mistakes, we should learn from them and move on.
Our mind has to be clear of any negative thinking. Whatever happens, we must turn it into a positive experience.
Is it hard? Yes, in the beginning. But with a bit of an effort, we condition ourselves to stay on the positive side which in return attracts peace of mind and enjoyment for what we do.
Recommended for tennis coaches:
The beginning of summer is the time for introducing tennis to new players. Camps are a great way to show kids how fun tennis can be.
We have a special section inside the Tennis Drills and Lesson Plans program, dedicated to running a successful 5-day tennis camp.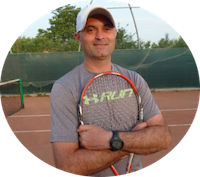 Cosmin Miholca
Certified Tennis Coach
Check out my work at WebTennis24 where I share with you my best video tennis lessons, drills and tips for players, coaches and tennis parents.