"How to watch a tennis match? What do you mean by that?"
I mean: do you learn anything from watching a tennis match?
Yes, watching a tennis match can be a great lesson if you actively analyze what happens on the court and, above all, ask yourself questions… Do we take something out of this experience or are we simply spectators going through the emotions of winning or losing a tennis match?
Is watching tennis a learning experience for you?
If the answer is NO, then I would like to suggest that you keep the following list next to you while watching the next tennis match…
It is important, for your improvement, to ask yourself questions. Questions will provide you with valuable answers. These answers will help you understand tennis and where you want to get as a player.
So pick your favorite player and follow them while asking yourself these following questions:
– Where are they aiming their first serve: the opponent's forehand, backhand, or middle?
– Where are they hitting the second serve to? What spin are they using?
– Where are they aiming their returns of serve to?
– Where are most of their groundstrokes aimed at? Are they going mostly to a certain side (opponent's weakness, cross-court)?
– How early are they preparing for the ball?
– Where are they standing to receive the first serve? What about the second serve?
– Where are they placing/aiming their approach shot?
– During the rally, how is their court coverage (covering cross-court quickly from the baseline)?
– At key points (15-30, 30-15, 40-30, 30-40, AD in, Ad out), where are they serving to? And what kind of spin are they using?
– How do they play key (pressure) points?
– Where are they aiming the defensive shots?
– At change-over – what do they eat and drink? How much?
– How is their body language after a point they just lost? What about after a winner?
– How far back are they taking the racquet when returning the serve (notice the short back-swing)?
The list can go on. Feel free to add your own questions…
If you have not watched a tennis match asking questions, then do it now. You will be amazed at how exciting the experience can be and what valuable information you will get from it.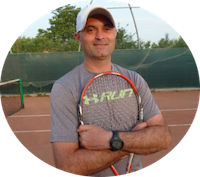 Cosmin Miholca
Certified Tennis Coach
Check out my work at WebTennis24 where I share with you my best video tennis lessons, drills and tips for players, coaches and tennis parents.