"He's too good! I'll lose this match for sure…"
"Don't worry about him; let HIM worry about you!"
It's one of the best advice I had ever received when playing competitive tennis.
Besides the above quote, what else can you do when playing against stronger and faster opponents?
– hang in there; the momentum could switch and swing in your favor;
– vary the spin, height, and pace of your shots;
– shorten your backswing – you'll be able to handle their pace and contact the ball early;
– take more time in between the points, within the 25 seconds decent limit… or is it 20 seconds? (;
– believe you can do it and keep fighting – this one I can tell from experience that good things happen when we believe and fight all the way to the end.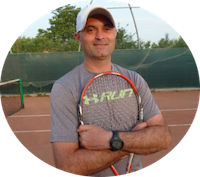 Cosmin Miholca
Certified Tennis Coach
Check out my work at WebTennis24 where I share with you my best video tennis lessons, drills and tips for players, coaches and tennis parents.