We all love playing tennis, but not so much "practicing" it…
Oftentimes, coaches find it frustrating to see the lack of time their players put into practice the skills they learn.
Playing the game is obviously more fun than the repetition required to hone a skill like forehand down the line, kick serve, or drop shot.
So what should you do (as a coach or tennis parent) to engage players into practicing their skills more often?
It all depends on your players: are they beginners, intermediate, or advanced?
– If they are beginners, give them ideas of fun tennis drills and games they can either practice by themselves, with a friend, or with a family member.
Let them know that by the time the next lesson comes you would like to hear about the games or drills they did; show interest and give them tasks to accomplish: 50 backhands down the line, 100 serves, play two sets with a friend, rally 200 balls over the net, etc.
– If they are intermediate or advanced players, you might want to remind them about the benefits of practicing: consistency under pressure, better shot placement, winning more matches, more power and foot speed, etc.
For these players, you can also give them tasks to accomplish until the next lesson with you: 100 serves down-the-T, 50 drop shots, 200 forehands cross-court, 50 kick serves to the ad court, etc.
On or off the court, when it comes to explaining to your students the benefits of practicing and playing more tennis, some will pay attention and follow your advice while others would need more reminding.
People are all different and you can test what works and what does not.
The bottom line, self-motivation is a rare thing among most people. This is where the coach or parent must step in. We all need a little push sometimes…
To learn more about how to create exciting practice drills and lesson plans for tennis, check out the Lesson Plans section at WebTennis24.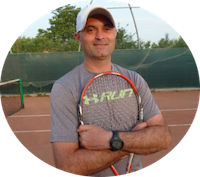 Cosmin Miholca
Certified Tennis Coach
Check out my work at WebTennis24 where I share with you my best video tennis lessons, drills and tips for players, coaches and tennis parents.