Here's how I fixed the serve problem of one of my students.
This particular lady used to take lessons with me a couple of years ago.
She called me on a Wednesday afternoon saying that she was lacking consistency and did not know what was the problem with her serve.
We met the next morning after my usual 8:30-9:30 am class, and after she warmed up, I made a few steps away and looked at her while she was delivering most of her serves long, just a foot beyond the service line. Over and over…
I soon noticed the problem:
She was releasing the ball very early and then lowering the tossing arm right away.
This caused a loss in balance and low contact with the ball.
So here's what I did to fix her serve consistency within a few minutes…
I asked her to continue serving focusing on one thing only: keeping the tossing arm up and extended towards the sky after releasing the ball until she sees it coming down.
She got her balance back and made contact a lot higher.
The result: more power and… more serves landing inside the service box.
There are a few technical elements that players need to be aware of in order to deliver the serve with consistency and power. These elements can make a big difference in someone's game.
If you want more information about tennis technique, or drills for consistency and accuracy, as well as tactics and strategies for winning against different tennis opponents, you'll find all this in the Tennis Mastery course.
If you are a tennis coach or a parent of a child who wants to learn how to play tennis, you should definitely check out the My Daddy / My Coach and the 10 Lesson Plans / How to Teach Tennis program.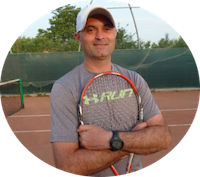 Cosmin Miholca
Certified Tennis Coach
Check out my work at WebTennis24 where I share with you my best video tennis lessons, drills and tips for players, coaches and tennis parents.