It was 2003… the year I earned my tennis teaching certificate.
Despite my playing experience and theoretical understanding of teaching tennis, there were still so many gaps in my knowledge about how to actually coach people.
My students were all unique individuals – each with their strengths, weaknesses, and personalities.
As a young coach, it took me a while to learn that I had to adapt to every single student I encountered.
Once I became a certified tennis coach, I assumed that the methodology I learned from this esteemed tennis teaching organization would provide me with a "one-size-fits-all" formula that would suit every student who entered my tennis court.
I was wrong!!
Only when I learned that people are unique and they each had to be approached according to their personality, did I begin improving as a tennis coach.
Tennis is not a one-size-fits-all sport.
You were born with certain personality traits which are reflected in the way you strike the ball, the way you move, and the way you make decisions on the court.
A skilled coach can help you discover the basics of how to play tennis in a way that complements your own unique playing style.
Don't try to be like the pros!
Be yourself and play tennis in your own way…
The way that feels right to you.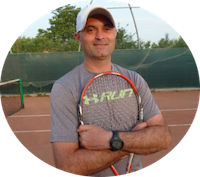 Cosmin Miholca
Certified Tennis Coach
Check out my work at WebTennis24 where I share with you my best video tennis lessons, drills and tips for players, coaches and tennis parents.