Do you consider that every tennis coach has a duty to introduce their children to tennis? Even if only to teach them the basics so they can enjoy it later with their friends?
These were questions I was asking myself as my baby daughters were turning 4 and 5 years old. 
Many days and nights had I thought about it: what if they didn't like tennis? Is there a social expectation from a tennis coach to have his children pick up the sport he likes so much? 
I was young and did not have answers to those questions…
One of the biggest thoughts that I could not shake off was the one that eventually made me decide to take this step and introduce my daughters to tennis:
"Would I forgive myself after 20-30 years if I did not teach them to play tennis?"
No, I would not. 
And this is how I got my daughters started with this sport. 
There is more to this story, but I have to keep it short – 
My daughters began with group classes so they could see other kids enjoying tennis, and only after they got a taste of this sport, they asked me to be their coach. 
It was not easy because my daughters have strong personalities. And they "knew better than me" how to hit the ball and would not accept anybody telling them how to do it. 
Even though their father was a tennis coach…
They knew tennis better than I. 🙂
Teaching your kids is not an easy task, but it would give a parent great satisfaction seeing them grow in the sport, become competitive, and learn to work hard to develop their skills… not to mention the hours you spend with them on the court is just… priceless.
So yes, I did manage to teach my two daughters to play tennis and we did this process together for 9 years. 
Best part?
Occasionally, my wife would record some of their lessons. 
If you want to see how I did it, and learn the techniques, the games, and the ways I interacted with my daughters on the tennis court, you can watch the whole 9-year process in this WebTennis24 section called My Daddy / My Coach.
Was it easy, or was it hard? 
It does not matter. 
The time I spent with them on the court during all those years is just precious. 
If you are teaching your children or intend to do it soon, I am here for you. 
I've done it, so I know what you will be going through.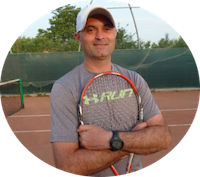 Cosmin Miholca
Certified Tennis Coach
Check out my work at WebTennis24 where I share with you my best video tennis lessons, drills and tips for players, coaches and tennis parents.