1. You shall not wear sunglasses when talking with your students or greeting anyone.

2. You shall always have a positive attitude.

3. You shall always remember your students' names and greet them as soon as they enter your tennis court.

4. You shall not pick up, talk, or text on your phone during tennis lessons.

5. You shall never be late to your tennis lesson otherwise it is free for your client.

6. You shall not speak poorly of your fellow tennis coaches (or any clubs or tennis organization affiliations) regardless of their teaching methods.

7. You shall show respect to your clients and make them feel welcome even after they have stopped coming to you for lessons.

8. Once in a while you shall give free lessons to those who cannot afford them, and spend extra time with your clients who need more help.

9. You shall always look clean and smell nice.
10. You shall always look for ways to improve your tennis knowledge and share it with your students and younger fellow coaches who seek guidance.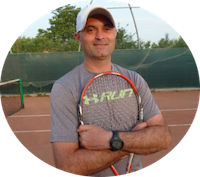 Cosmin Miholca
Certified Tennis Coach
Check out my work at WebTennis24 where I share with you my best video tennis lessons, drills and tips for players, coaches and tennis parents.