You play against an opponent whom you have competed with before, but on this particular day everything "connects" for them: the groundstrokes are consistent, perfectly placed and timed drop-shots, their lobs are "magically" finding the baseline, the first serves are at a high percentage… and whatever you do the ball finds its way to come back for another shot. In short, your opponent has one of those days when everything connects. So frustrating for you!
What should you do and how do you play?
One lesson I've learned in my entire tennis career is that no matter how good your opponent is playing, you should always care for these three things:
1. How long can they maintain this level of play?
2. Whatever it takes, you should stay positive and show no sign of frustration to fuel your already confident opponent.
3. Stick with whatever strokes you feel you have control over. It is not the time to try something new. Be humble in your play.
Really, all it takes to win most of the matches against "in the zone" players comes down to the above three mental points.
However you play, always keep in mind that the mentally stronger players always (or at least most of the time) prevail when the balance of technical skills is leveled between players.
Do you have any tips you would like to add? Leave them in the comment box below.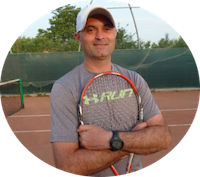 Cosmin Miholca
Certified Tennis Coach
Check out my work at WebTennis24 where I share with you my best video tennis lessons, drills and tips for players, coaches and tennis parents.