The following tips are for tennis coaches to connect with their students, gain their respect, and, as a result, get more clients:
1) Do not wear sunglasses when meeting your students for the first time or greeting them as they come to your classes. They should be able to see your eyes. You'll make a good connection with them.
IF you wear sunglasses, taking them off as they approach you shows that you care for them.
2) Have a positive attitude.
Your students should not have to know that you could not get any sleep last night from your newborn baby keeping you up (like it happened to me). Even if you had a tough previous lesson with another client, you should reset and put on a smiling face for the next student or class.
Keep it positive and show that you are excited to see them every time.
3) You should always remember your students' names and say it a few times during their lessons. Everybody enjoys to hear their name mentioned; it is a form of respect from your part.
4) Never pick up or talk on the phone during your tennis lessons. Imagine you are a parent who is paying for their child's lesson but you see the coach talking on the phone when they should be in fact interacting and giving instructions to your child. Put yourself in the shoes of your clients; they want your undivided attention during the time they employ your services.
5) You should never be late for your lesson, otherwise, it should be free for your client. If you know you will be late, definitely find a way to let your student know ahead of time. My advice for you is to always get on the court at least 15 minutes before your lesson so you have enough time to get the court and any teaching aids that you will be using for the class ready.
6) Do not gossip!
Don't talk negatively about your other clients, fellow coaches, or competing tennis clubs/organizations. If you don't have anything positive to say, better not say anything at all. The negative talk will reflect on you and your clients will associate what you say with the feeling they have towards you. So keep your actions and words as positive as possible.
7) Show respect for your tennis students and especially for those who have stopped taking lessons with you. Even if they are not your clients anymore, your former students can be great ambassadors to promote your services to their friends and families.
8) Once in a while you should offer free lessons to those who cannot afford them. In addition to that, you could organize weekly get-togethers where your students and their friends can play together. It is a great way not only to offer your players a chance to get extra practice but it is also an excellent way to meet their families and spread the word about you and your services.
(I used to organise a 1 hour games-and-play session every Thursday evening inviting all my students to come and play. I would match them up according to their skills and parents would be participating in feeding balls to start the games or picking up balls, etc. It was fun!)
9) Look clean and smell nice.
We coaches sometimes have to rally with our students, therefore, it is important that we have spare clothes and a way to take care of our appearance before and after each lesson.
10) Find ways to constantly improve your knowledge about the latest teaching techniques, and share what you know with your younger fellow coaches. Be available to share your experience not only with your students but with their parents or anybody who is willing to learn. Knowledge should not be kept a secret. It should be shared so that others benefit from it.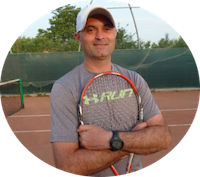 Cosmin Miholca
Certified Tennis Coach
Check out my work at WebTennis24 where I share with you my best video tennis lessons, drills and tips for players, coaches and tennis parents.